Customer Service Dashboard

Add to my saved searches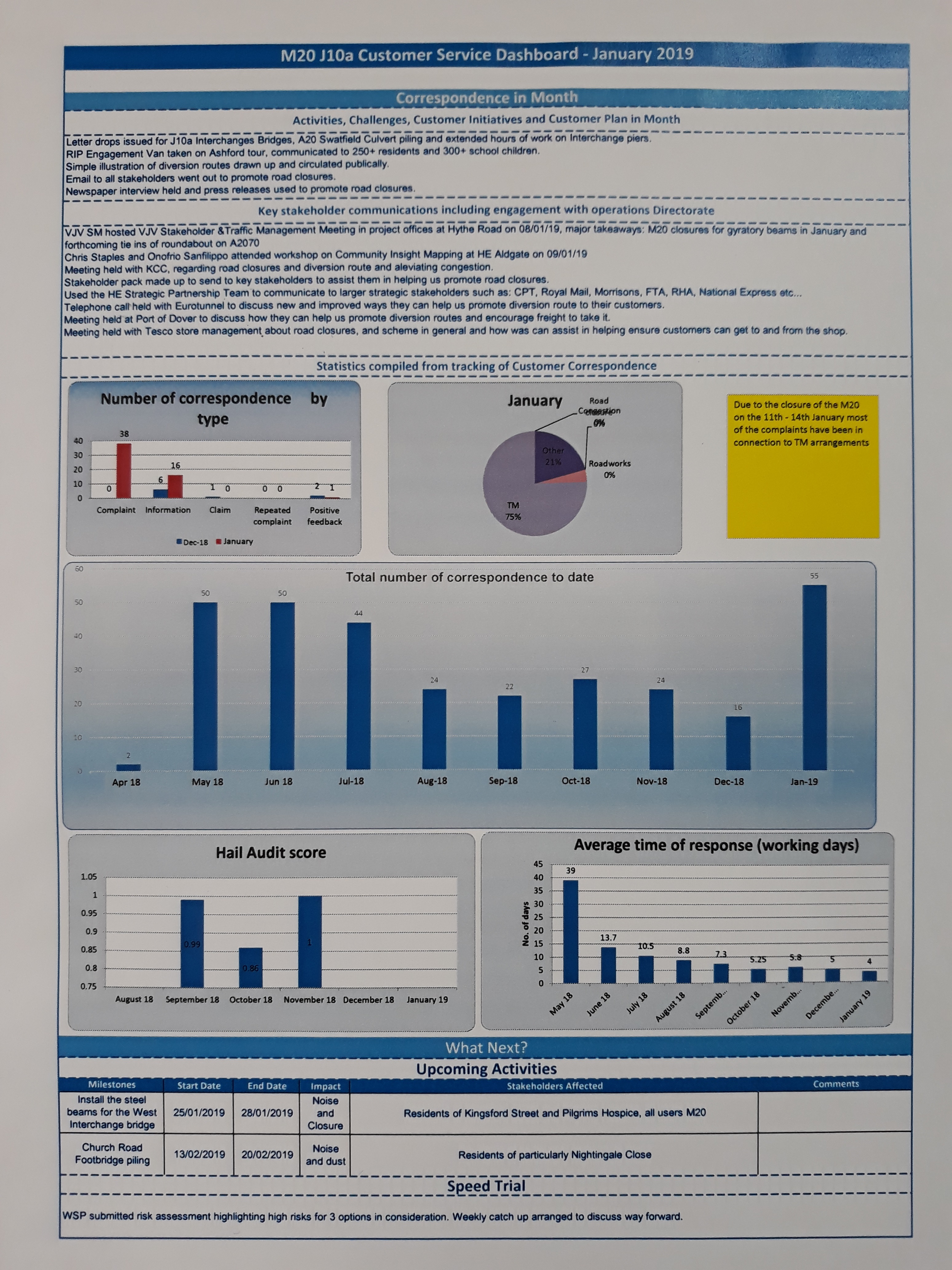 We are working tirelessly to provide the highest standard of customer service by applying the following, and recording it all within a Customer Service Dashboard:
Building relationships with councils and residential groups, such as Kent County Council and Village Alliance in Mersham.
Presentations to local communities such as North Willesborough Community Forum and Ashford Borough Council Joint Transport Board.
Where possible, change or adapt processes related to scheme's construction and traffic management requested by customers.
Stakeholder meetings that include Ashford International Truck Stop and Lenham Storage Co. for co-ordination of traffic management.
Prior to road closures on the M20 and A2070 regularly visiting residents face to face, explaining programme and associated impact.
Manning a customer engagement van that provided an exhibition of the scheme at a nearby superstore, hospital and school.
Using debriefs to reduce impact of ensuing closures, for example increasing liaison with Port of Dover and Eurotunnel, ensure conflicting signage by others is removed, issue a simplified diversion map, contacting stakeholders to confirm aware of closures, providing pull up banners to local hospital and superstores.
Supporting local charities such as Pilgrims Hospice.
Participating in Highways England audits, increasing the scheme's audit score from 80% to 90% in a short period. This includes comparing the project to the 20 Principles of Roadworks and identifying areas for improvement.
The scheme ensures the stakeholder database project information and distribution list is regularly updated.
One common data environment for accessibility.
Monitor customer service using Customer Dashboard.
For more information, please click on the link below.
Highways England M20 J10a Project Information
---
Footer Reference
Entry submitted by Taylor Woodrow
---
---