Making bikes more accessible

Add to my saved searches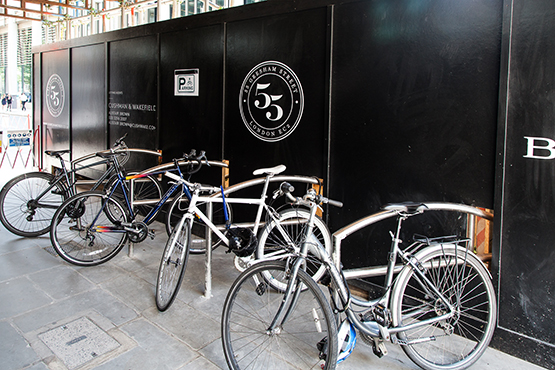 Where possible, sites should be making efforts to reduce fuel usage by supporting and providing carbon reducing forms of transport.
They can do this by encouraging the use of bicycles and making this type of transport more easily accessible to the workforce. Cycling has the additional benefit of improving operatives' health and wellbeing.
Examples of how site managers have encouraged cycling include:
The company provided bicycles for all office staff to cycle to work. After 12 months of continuous use, staff members were allowed to keep the bicycles;
Bicycle racks were made available on the hoarding;
Company cycle purchase initiative was introduced, where a discounted purchase for bikes was offered or money was matched for staff purchasing a bike;
A 'cycle to work' scheme was put in place in conjunction with Halfords, where operatives were assisted in purchasing a bicycle on a tax free basis;
A cycle repair facility was set up on site, available to all operatives and visitors as part of a 'get cycling' campaign;
Introduced a 'cycle to the shops' initiative, in which a bicycle was made available to operatives, rather than using a car or van;
The 'BAM bikes for Macmillan' challenge was organised, which involved over 100 employees taking part in a nine-leg 900-mile cycling trip of the UK, in aid of Macmillan Cancer Support;
Metropolitan police were invited to the site, to mark bikes of operatives to make them less likely to be stolen and, if stolen, more chance of being recovered;
Hi-vis vests were loaned for work journeys, a spare cycle helmet was kept permanently on site, leaflets were issued and 'Think Cyclist' signage widely displayed;
A bicycle was provided for the workforce, a notice was displayed in the canteen encouraging operatives to use it to the local shops, in exchange for a donation to charity.
Footer Reference
CCS Spotlight on...cycle safety; Second visit Monitor Report. Bam Construction, London, December 2014; Monitor Report, Willmott Dixon Construction Ltd, Milton Keynes, March 2015.
---
---