Recognising and promoting good environmental performance

Add to my saved searches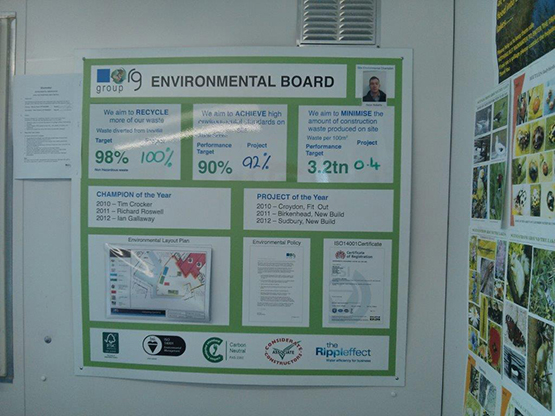 It is important to identify and manage environmental issues and recognition of successful behaviour is vital. 
Many larger companies set targets to measure their environmental performance and success.
This is enhanced by the production of regular reports and communications and by ensuring that lessons are learned.
A number of sites have promoted their environmental performance by doing the following:
The company environmental policy was clearly displayed, made site specific and was effectively implemented and monitored, as well as updated monthly;
A site waste management plan was in place with a trade contractors waste returns being monitored;
Environmental targets and results were displayed on hoarding and included in community newsletters as good news stories;
Companies have achieved a 'Next Generation Benchmark' Award for social sustainability, through their performance under the ISO rated environment plan.
Footer Reference
Monitor Report, St Edward Homes Ltd, London, December 2014 Monitor Report, Mace, London, December 2014
---
---