Scaffolding safety measures

Add to my saved searches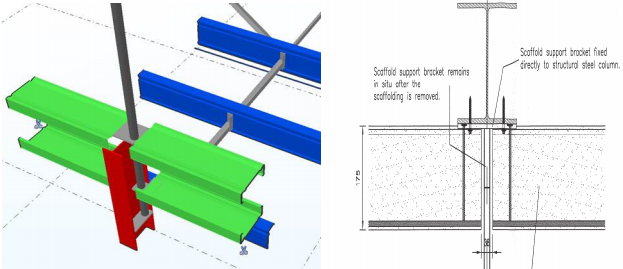 Risks should be proactively identified and appropriate prevention measures implemented, maintained and monitored.
It is important to identify and implement measures to ensure the safest working conditions for operatives.
To ensure that there were no conflicts with the cladding installation and the scaffolding, which might have compromised safety, two elements of work were carried out:
The steelwork contractor installed purpose made brackets within the tops of the columns to allow the side cladding to be completed to roof level without removing the handrail system, a mandatory detail of the company's internal Health and Safety standards;
Bolt extensions were welded to the centre of the main columns to tie the designed scaffolding back to those with Hilti ties;
The top hat joint system was designed between panels and installed in 3 pieces to cover the tie extensions. This allowed for reuse of the extensions for tying scaffolding, during future maintenance of the cladding.
To find out more about the roof handrail detail and the cladding tie detail, click on the links below.
Downloads
Roof handrail detail Click here to Download
Cladding tie detail Click here to Download
---
Footer Reference
Monitor Report, Simons Construction, Sussex, March 2015
---
---